KAMRUL HUSSIN - 2016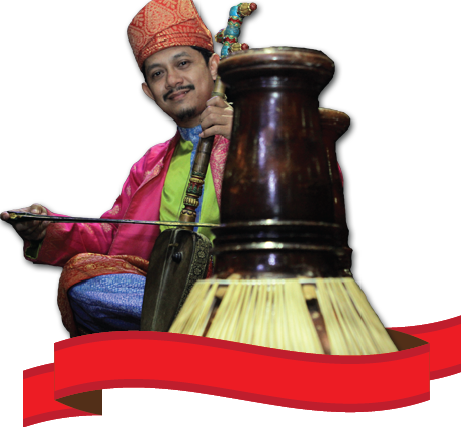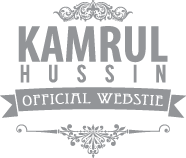 WHO IS KAMRUL HUSSIN?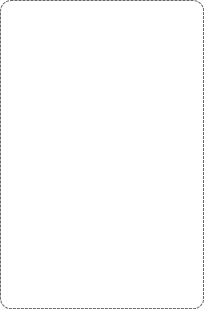 MOHD KAMRULBAHRI BIN HUSSIN – KAMRUL HUSSIN Mohd. Kamrulbahri Hussin was born in north-eastern Malaysia state of Kelantan at the village of Banggol Gelang Mas, Pasir Mas, Kelantan, a state renowned and hailed for its traditional Malay performing arts and ritual healing , such as Mak Yong, , Tok Selampit, Dikir Barat, Silat, Rebana Ubi, Kertuk, Wayang Kulit Kelantan, Menora and Main Peteri.

Kamrul grew into prominence at an early age into a family who is well known in traditional arts and ritual. Through his father who is an exponent, a practitioner and a doyen of Main Peteri, the art of ritual healing. Kamrul developed a natural proficiencies to traditional instruments while in his teens, he was already a master in the making , whose extensive knowledge in traditions eased him to play traditional Malay musical instrument such as all the Kelantanese drum (Gendang), Rebab and Serunai. Alongside this body knowledge of traditional instrumentation, he is also well verse on how to be a Dalang (Puppet master) in Wayang Kulit Kelantan (Shadow Puppet Play) and personally make repairs to all his musical instrument with ADIGURU the late Pak Hamzah Awang Amat, a National Laureate and Fukuoka Culture Prize Winner, Pak Nasir Yusoff, His Father Pak Hussin, Che Mat Jusoh, Pak Mail-Ismail Mamat, Pak Ibrahim Senik and Pak Anuar Ismail. He also well learned to play Modern Drum and percussions like Drum set (Sugito, Philip Robert), Percussion in orchestras with Gerald Novak, the principal percussionist of (Malaysia Philharmonic Orchestra MPO-1998), Indian percussion (Kirubakaran Narayana), Chinese Percussion (Benard Goh-Hand Percussion Team, Chien Kam Chen), Latin Percussion (Steve Thornton, Manes Yahuda, Amir Firza, Alonso, Mohd Nor-Singapore, Mark Mazur - Canada)

Mohd. Kamrulbahri received his Diploma and Degree in Music from the National Arts Academy of Malaysia (Akademi Seni Kebangsaan 1996-2000) now know as ASWARA. He majored in Malay and Western Percussions. A Master Degree at the National University of Malaysia (UKM) under the School of Malay Language, Literature and Culture (PPBKKM), faculty of Social Sciences and Humanities (FSSK).

He was the Musical Director for Wayang Kulit & Malaysian Music at United Nation, NEW YORK (2006) and is very much involved in contemporary theatre and dance performances in Malaysia.

Kamrulbahri backed many popular local artistes such as Tan Sri S.M. Salim, Zainal Abidin, M. Nasir, Ziana Zain, Ning Baizura, Siti Nurhaliza (Royal Albert Hall London 2005), Salleh Yaakub, Zalee Redang in Album 2000, Noraniza Idris in Album (Aura-2005), Ramli Sarip and Sweet Charity (Esplenet Singapore 2009, Istana Budaya and Petronas Filharmonic Hall), Dayang NurFaezah (Kasih-2006), Resh Monu ( Monumental 2005), Farid Ali (MR GAMBUS-2005) and also the popular nasyid group, Raihan - (Spain, England and Europe Tour), Rabbani, Hijjaz. Gambus Goes Latin in concert with Farid Ali at Dewan Filharmonic Petronas (2008).


Notwithstanding, are his performances with international artistes Sadao Watanabe (Japan), Visnu Mohambat (India), Michael and Victor (Taiwan), Steve Thorthon, New York, Djaduk Ferianto "Kua Etnika" (Indonesia) and in the collaboration project, "WINDOW TO ASIA" (Hanoi, Vietnam), other collaboration with Somnath Roy (India), Dedek Wahyudi (Indonesia), Grace Nono (Philippines), Waewdao Sirisook (Thailand) and a few U.S.A artists such as Gregory Acker, David Cutler, Shoji Kameda, Rob Levit and Andrew Mcgraw. He has also performed Malaysia Music in Sweden, Singapore, Thailand, Geneva, Japan (Kobe 2003, Fukuoka 2000), Spain and Toronto - Canada. He also involved in Venice film Festival Italy(2004) - for Puteri Gunung Ledang (PGL) Malaysian Night - Music Director, not only that he also one of the musician who played the traditional percussion, serunai and rebab for PGL Movie.

International Festival such as Edinburgh International Arts Festival 2007, Rain Forest World Music Festival 2002, 2006 (APU), 2009 (ASIKA) and 2013 (Rhythm In Bronze-RIB), Penang International World Music Festival 2007 (ASIKA), Jarazum International Jazz Festival 2004, Penang International Jazz Festival 2007, Malaysian Food Fair in Los Angeles and Las Vegas" Teast Of Malaysia 2008", Beishan World Music Festival 2011 and Kuala Lumpur International music Festival 2007, 2008 and 2009.

Kamrul also has been awarded as "Anugerah Pengiat Seni Kampus-UKM 2004", Nominated as Best Solo Performance in Boh Cameronion Art Award 2004 for Rhythm In Bronze in Concert at Dewan Philharmonic Petronas, Fellowship program (Appex 2006) UCLA, Los Angeles, USA, The World Master in arts and culture 2007 and 2010-Seoul Korea, "Anugerah Graduan Cemerlang ASWARA-2007" by The Prime Minister Malaysia (Y.A.B Datuk Seri Abdullah Hj Ahmad Badawi), Anugerah Bakat Muda seni Muzik 2009 (Music Director) for 8th National Art Award and Selangor Young Talent Award 2011 - Performing Art.

Mohd. Kamrulbahri has been teaching and lectured many places such the National Arts Academy of Malaysia (Akademi Seni Kebangsaan) A.S.K or ASWARA (2001-2008), the National University of Malaysia (Universiti Kebangsaan Malaysia-UKM- 1997-2003), University Of Malaya (U.M), University of Technology Mara (U.i.T.M), University Of Putra Malaysia-UPM, The International College Of Music-ICOM, Sunway University College (2009), full time Contract base lecturer at Music Faculty, Akademi Seni Budaya Dan Warisan Kebangsaan (ASWARA) 2008-2012. Distinguished Creative Scholar at the Faculty of Music, University Technology MARA (UiTM) 2012-2014.

BIODATA : MOHD KAMRULBAHRI BIN HUSSIN

Kamrulbahri Mohd Hussin, 38 years comes from Kg. Banggol Gelang Mas, Pasir Mas, Kelantan, a state known for its performing arts and traditional medication such as Main Petri, Mak Yong, Menora, Dikir Barat, Wayang Kulit, Tok Selampit, Rebana Ubi and more.

He was exposed to the art of traditional Malay Kelantan since childhood. He graduated from the Music from the National Arts Academy (ASK) with specialization "Performing Music", Malay traditional percussion instruments and west. Kamrul get guidance from many prominent art homeland as late Hamzah Awang Amat (National Artist First), late Fadzil Ahmad (King lyre Malaysia), Che Mohd Nasir Yusoff (Adi Guru Wayang Kulit ASK and all the arts of Kelantan), Ibrahim Senik (Adi teachers fife and fiddle), Ismail Mamat (Master Tech in Performing Traditional kelantan), his own father Hussin Yusoff (manufacturing tools, Tok Teri and Tok Dalang), Rahim Male (Adiguru Music Original and langam), Che Mat Jusoh and more teachers provide guidance for fomal or not fomal.

He has acted as Music Director for the modern theater as Surrender Princess (Normah Nordin), Bagaton (appriate Kapis) and Tennis Village Mayor (Shukor Yon) as well as traditional theater Mak Yong youngest son Raja Sakti. And Mak Yong children "King Penguin" (Azaha Othman). Was the director of music in conjunction with Malaysia s Eve in Italy in conjunction with the Venice Film Festival 2004 for the film Puteri Gunung Ledang (PGL). Director of Music for the show s original music and Wayang Kulit Kelantan at the United Nations, New York, USA (2006).

He is also involved as a musician for the theater like a trail of Heroes (Khalid Salleh), Members of the Club (Syed Alwi), Awards (Rohaya Atan), Floor T Pinkie (Rosminah Tahir). He was also involved as a musician in the show.

Concert Tan Sri SM Salim in Malaysia Filharmonic Orchestra (MPO), a concert mini Zainal Abidin, (YTL Millennium concert of celebration at Bukit Bintang) Beats Asia with Steve Thorthon (Stadium Bukit Jalil), Michael and Victor Farewell Concert (Stadium of the Singapore Open and the Stadium Putra Bukit Jalil), Phillip's International Jazz Festival (Sadao Watanabe and Steve Thornton), International Dance Festival, Hong Kong, Asean Art Camp, Manila Philippines, Rhythm In Bronze (Unitra Fernando), as well as a background singer and also as a musician for the group Raihan (European Tour, Spain, Canada) and musicians during concerts Siti Nurhaliza inside and outside the country (Royal Albert Hall, London).

He was also invited by foreign countries such as Vietnam (2001), Philippines (1996), Indonesia (2002), United States (appex 2006), Japan (2013, 2014, 2015) and Thailand (2015) for and make cultural exchange internationally as well as in full by the country sponsor. Kamrul also overran many countries for presenting art on the world stage either alone or with a group.
Among the countries or big cities the world has ever explored, such as Sweden, Singapore, Thailand, Geneva, Japan, Spain, Toronto, Italy, New York, Indonesia, Singapore and more.

Kamrul also many recording artists such as Raihan album (Album -amen 2006), Dayang Nurfaizah (Album Love, - 2006), Noraniza Idris (Album Aura- 2005), Resh Monu (Album Monumental, -2005). Farid Ali (Album "MR GAMBUS- 2005). Zali Redang - 2000.

Publisher of the album The New Authentic Kelantanese Traditional Music of Malaysia part 1 group Geng Wak Long (2012) that were distributed in Tokyo Japan and publisher of the album Malaysian Traditional Music in Four Genres by UiTM performing Group London & Cambridge.

He has also been entrusted by the Palace of Culture as a young composer in creating and changing the program in conjunction with the new song 'GANGSA'- Geeta (2003) entitled "Wind IRON". The program features many famous composers abroad and homeland as Mr Supanggah (Indonesia), Imam Hanafi, Pak Ngah, Mohar, Mohd Yazid Zakaria, Narawi Rasidi and many others.

Additionally kamrul also been recording music or sound trucks in films such as Film 'Puteri Gunung Ledang' -2004, movies' HAVE GOOD CILUK'-2005, Qaisy AND LAILA-2004, -2010 MANTRA, the twilight of 2011 as Director of Music film directed by Ahmad Murugan. Additionally kamrul also made recordings of his music or his voice in music for ads such as CALTEX ELECTIONS-2003, COCA-COLA, PETRONAS-2004.

Kamrul has been nominated as 'Best Solo Performance' in Both Cameronion Arts Award - 2004, 2007, 2008. He got the Artistes Campus (SMEs) - 2003. Kamrul also won the first competition at the national level in 2002 Original Music with the group Aslirama Kuala mud now known as the Asika. The second stage of the competition Music Acoustics Nusantara IPT- 1999.

Kamrul has also been offered as a stage actor drama tv by RTM in 2001 titled Tears Pak Dogol instructions and work Sabri Zain Ibrahim Mohd Zain (Samoza). Kamrul has been given a rather difficult character that is the character of a teenager who stutter, the mentally retarded, stupid, but there is a feeling.

Kamrul also been offered as a part-time lecturer and instructor in music Malaysia in almost all universities in the Klang Valley such as the Academy of Arts, Culture and Heritage "ASWARA" or SK-(2001-2008), University of Malaya-UM (2005-2006), Universiti Putra Malaysia, UPM (2002-2004), Universiti Kebangsaan Malaysia, UKM (1997- 2003), Universiti Teknologi Mara-UITM (2002-2008), University College PTPL (2005), Kolej Universiti Islam Malaysia 'KUIM' (2005) , Universiti Islam Malaysia-UIA (1998).

Kamrul can play almost any musical instrument traditional Kelantan and ensemble music that is available in Malaysia such as Wayang Kulit Kelantan, Mak Yong, Ost West, Rebana Ubi, Silat, Main Peteri, Pull Selampit, Kompang, Gamelan, Tak Lempong, Music First, Ghazal and much more. For him, traditional music is our right and our identity, therefore he also trained his siblings own and their students to be more aware of the theoretical and practical philosophy.

He never got appex -2006 Fellowship Program from UCLA , Los Angeles , USA , and fully sponsored by the US government in Learning and Cultural Exchange Program at the international level on 3 July to 13 August 2006.

Getting Excellent Graduate Award ASWARA 2007 presented by Malaysia 's fifth Prime Minister , YAB Dato ' Seri Abdullah Ahmad Badawi in conjunction with the launch of the campus ASWARA 2007.

Selected and awarded as " The World Master " in the field of traditional Malay music and contemporary in the world ( WORLD MASTERS ' IN ART AND CULTURE FESTIVAL ) 2007 and 2010 are located in Seoul Korea .

Awarded as Young Talent Award , Division of Musical Arts ( Music Director ) in conjunction with the National Arts Award - 8 on 18 February 2009 and the Selangor Young Talent Award 2011- Arts on 17 September 2011 .

Served as a Distinguished Graduate Creative ( Guest Workers ) at the Faculty of Music , University Teknologi Mara ( UiTM ) .



2012 – 2015
Sarjana Sastera
(Pengurusan Persembahan Seni)
Universiti Kebangsaan Malaysia (UKM)
 
1996-2000
Ijazah Sarjana Muda Muzik dengan Kepujian
(Persembahan)
Akademi Seni Budaya Dan Warisan Kebangsaan (ASWARA)

Mengantikan Diploma Seni Muzik
(Persembahan)
Akademi Seni Kebangsaan (ASK)
Pengkhususan Pergendangan Melayu dan Barat


EDUCATION &
QUALIFICATION



Nama:

Mohd. Kamrulbahri bin Hussin  
Nationality:

Malaysia  
Status:

Married   
Email:
kamrulhussin@gmail.com

PERSONAL INFO